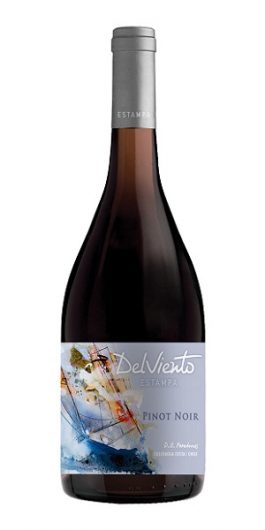 This is completely different from a Burgundy, with its own personality.
eRobertParker.com
From vineyards in Paredones, Colchagua Valley, the DelViento (of the wind) range is named after the pronounced influence of the cold winds that blow in from the coast.
Cherry red in colour with fresh and fruity aromas, the palate is flavourful, with smooth, well-balanced tannins.
ORIGIN
WINEMAKER
VARIETY
HARVEST DATE
TIME IN OAK
SULPHUR
MALOLACTIC FERMENTATION
CLOSURE
BOTTLE SIZE
REGION
Vinification details
After hand harvesting, the grapes (30% whole) were vinified in a self-emptying open-topped tank with native yeasts. Fermentation temperatures were maintained at 20º–23ºC with just one punch down per day. Once fermentation was complete, the free-run wine was separated and the press wine was allowed to decant for 24 hours before being returned to the free-run wine. Malolactic fermentation took place in stainless steel tanks before the wine was racked to third-use oak barrels.
Awards
Tim Atkin MW: 91 pts
eRobertParker.com: 90+pts
Green credentials
Committed to energy efficiency and rational water use, with water resources treated sustainably.
Have a trade enquiry?
Contact us to discuss