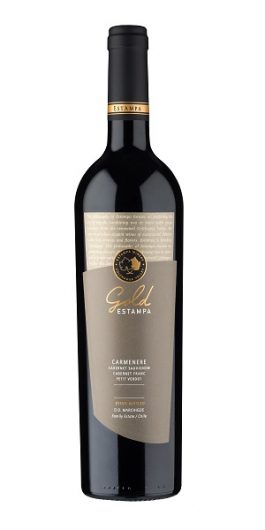 ... fresh and textured, with smooth tannins and underlying power.
Tim Atkin MW
Estampa's Gold is made with grapes from Marchigüe, growing on deep, very well-drained soils of granitic origin with a mixture of clay that allows the roots to develop fully.
Garnet red with violet nuances. Fruity, sweet, and spicy aromas recall ripe black fruits and plums over a complex backdrop with a note of liquorice. Flavourful on the palate with well-structured, complex tannins and fresh acidity. A blend of 85% Carménère, 10% Cabernet Sauvignon, 3% Petit Verdot and 2% Cabernet Franc.
ORIGIN
WINEMAKER
VARIETY
HARVEST DATE
TIME IN OAK
SULPHUR
MALOLACTIC FERMENTATION
CLOSURE
BOTTLE SIZE
REGION
Vintage conditions
The 2015 vintage benefitted from scant precipitation, a pronounced daily temperature oscillation during the ripening period, and generally excellent health conditions. It was a warm, dry year, which resulted in earlier phenolic ripening, and in cooler sectors, such as Marchigüe, guaranteed complete ripening in the tannins. The Carménère from this vintage is characterized by an abundance of fruity notes and a lack of pyrazines.
Vinification details
The different varieties were vinified separately in stainless steel tanks. Manual selection and destemming took place prior to a 5-day pre-fermentation cold maceration. Alcoholic fermentation then proceeded at 26º–28ºC with gentle pumpovers for moderate tannin extraction, followed by a post-fermentation maceration of varying lengths as defined by tastings. Once malolactic fermentation was complete, the wine was racked to barrels and aged at controlled temperatures for 14 months. Finally, the wine was bottled and held for 6 months before release.
Awards
Tim Atkin MW: 90 pts
Wine Spectator: 90 pts
Women's Wine & Spirit Awards 2018: Double Gold
DWWA 2018: Silver
IWC 2018: Silver
Green credentials
Committed to energy efficiency and rational water use, with water resources treated sustainably.
Have a trade enquiry?
Contact us to discuss